Embraer and Aeroplex Sign Memorandum of Understanding to Support Hungarian KC-390 Aircraft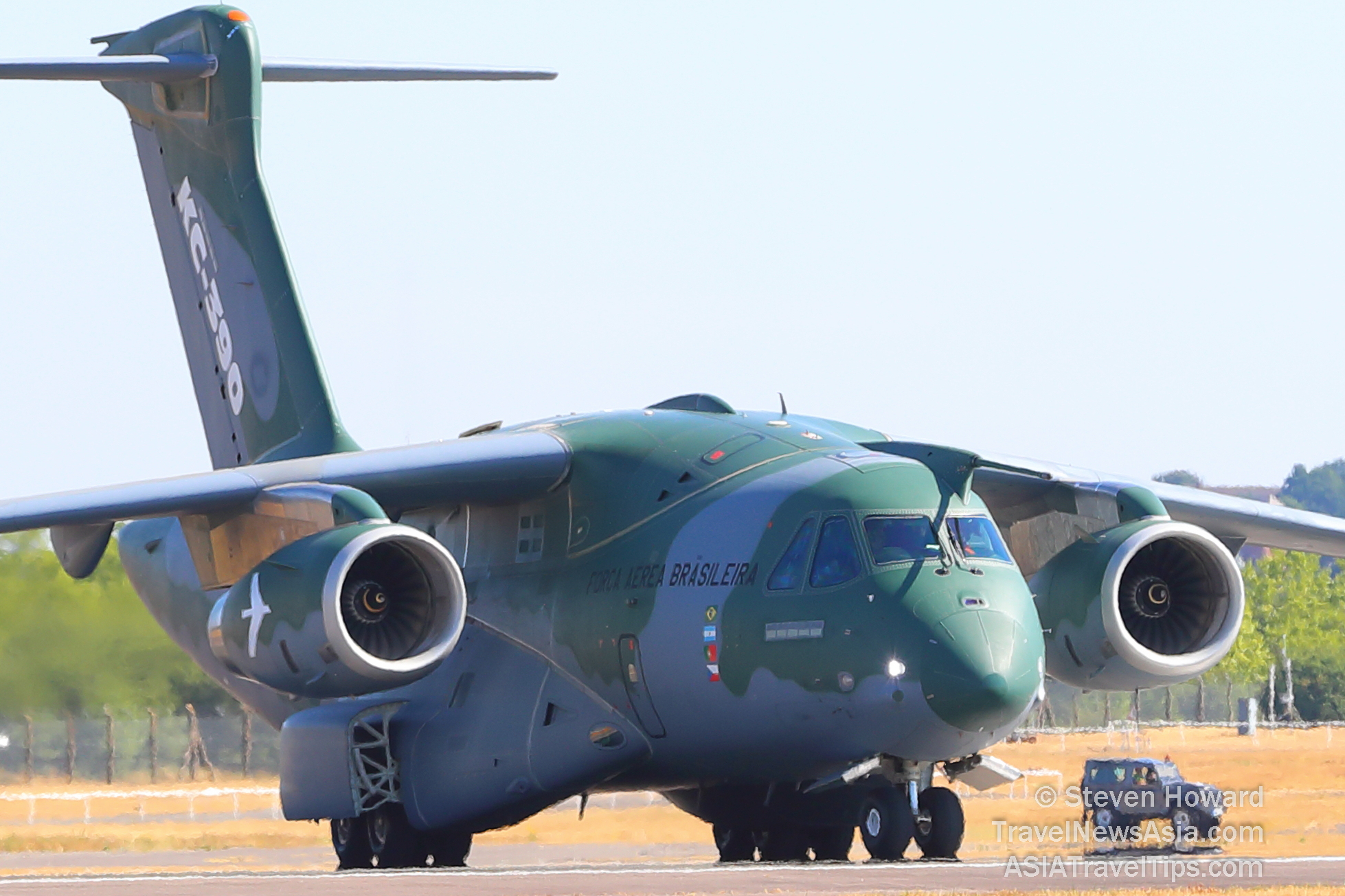 (07 June 2022, 09:36 +07)
Embraer and Aeroplex have signed a Memorandum of Understanding to cooperate on a project to qualify Aeroplex as an Embraer Authorized Service Center (EASC) in Hungary.
The objective is to support and enable Aeroplex to provide line and intermediate maintenance of the KC-390 Millennium aircraft of the Hungarian Defense Forces.
"This MoU is part of Embraer's commitment to expand collaboration with Hungary in the aerospace field," said Leonardo Lopes Ferrucci, Head of Embraer Defense & Security Hungary. "The local MRO capability will become an operational advantage for the support of Hungarian KC-390s after entry into service."
Brazilian Air Force KC-390. Photo by Steven Howard from TravelNewsAsia.com
The Hungarian government has signed a contract with Embraer for the acquisition of two C-390 Millennium multi-mission transport aircraft, in its air-to-air refueling (AAR) configuration, designated KC-390. The first aircraft is expected to be delivered in 2024.
The KC-390 for the Hungarian Defense Forces will be the first in the world with the intensive care unit in its configuration, an essential feature for carrying out humanitarian missions.
The aircraft will be used to perform various types of military and civilian missions, including medical evacuation, cargo and troop transport, precision cargo airdrop, parachute operations and CAS.
The KC-390 is fully NATO compatible, and with its probe and drug refueling system, the aircraft can refuel the Hungarian JAS 39 Gripen, as well as other aircraft using the same technology.
"We are delighted to work with Embraer on this critical project for the Hungarian Defense Forces," said Aeroplex CEO Demény Árpad. "As Embraer brings its more than 50 years of expertise serving aircraft around the world, Aeroplex will apply all of its knowledge and diverse portfolio to service the KC-390 Millennium. I am sure we will learn a lot together.
Embraer opened an office in Budapest in August 2021.
Recent interviews: HD Video Interviews of Miss International Queen 2022 in Pattaya, Thailand, Miss International Queen 2022 – Interview with Alisa Phanthusak, MD of Tiffany's Show Pattaya, Mövenpick Siam Hotel Na Jomtien Pattaya – Interview with Dmitry Chernyshev, GM, Is Siam Seaplane Ready for Take Stopped? Interview with Dennis Keller, Commercial Director, new CEO of Pattana Sports Resort in Chonburi, Thailand – Interview with Bodintorn Juangroongruangkit, sports training and fitness at Pattana Sports Resort in Chonburi, Thailand – Interview with Craig Wood, Thailand Yacht Show Pattaya 2022 – Interview with Andy Treadwell, CEO of Verventia, iAqua Adventures Interview with Nick Murphy at Thailand Yacht Show 2022 in Pattaya, Jetboard Thailand Interview with Marilin Poonsiri at Thailand Yacht Show 2022 in Pattaya and
TYS Pattaya 2022 Interview with Khun Sutiwas Chaisrivichiean, MD of MF Group (Thailand).