Olga Kertesz | Death notice | smdailyjournal.com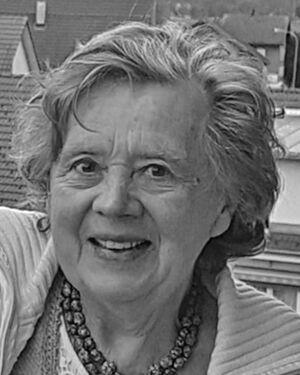 Olga Kertesz was born on June 8, 1936 in Zurich, Switzerland and died suddenly on May 5 while visiting her home country. She will be sadly missed by many longtime friends and family.
Olga courageously left Switzerland for England as a teenager, to work as Au Paire. She had the opportunity to accompany another family to Toronto, Canada in 1958 and jumped at the chance. It was there that she met her husband of 53 years, Joseph, a Hungarian immigrant. They tied the knot after a brief courtship and welcomed their daughter Julie a year later.
Joseph and Olga were unstoppable and left Canada for the United States in 1963, living briefly in New York, Michigan and eventually settling in Burlingame where they resided for over 50 years. Joseph left his career as an engineer and Olga her job as an accountant, to fulfill their dream of owning their own art gallery. They proudly ran the Kertesz Fine Art Gallery in San Francisco for 40 years, mainly selling paintings by Joseph.
Olga spread joy to all who knew her and kept her positive and upbeat outlook on life through thick and thin. He was a kind, trusting and loving soul who never said a derogatory word about anyone. Grandmother fiercely loved her grandson Alex; he was everything to her. They embraced the experiences of living together and were able to share their bond even more during the lockdown, curling up together. Olga loved her daily crosswords, going for walks, socializing and was a voracious reader. She loved her cats and birds and loved pastries. She is survived by her daughter Julie Venosa, her beloved son-in-law Joe, her grandson and soul mate Alex and her sister Erika Fitze and her family in Switzerland. Her husband Joseph died before her in 2013.
Olga has always believed that "it's not what happens to you in life, but how you choose to react".
Instead of flowers, donations to the Orly Museum of Hungarian Culture in Berkeley would have been his wish. 1720 Arch St. Berkeley, CA 94709.