The Benetton F1 car of the 1993 season at auction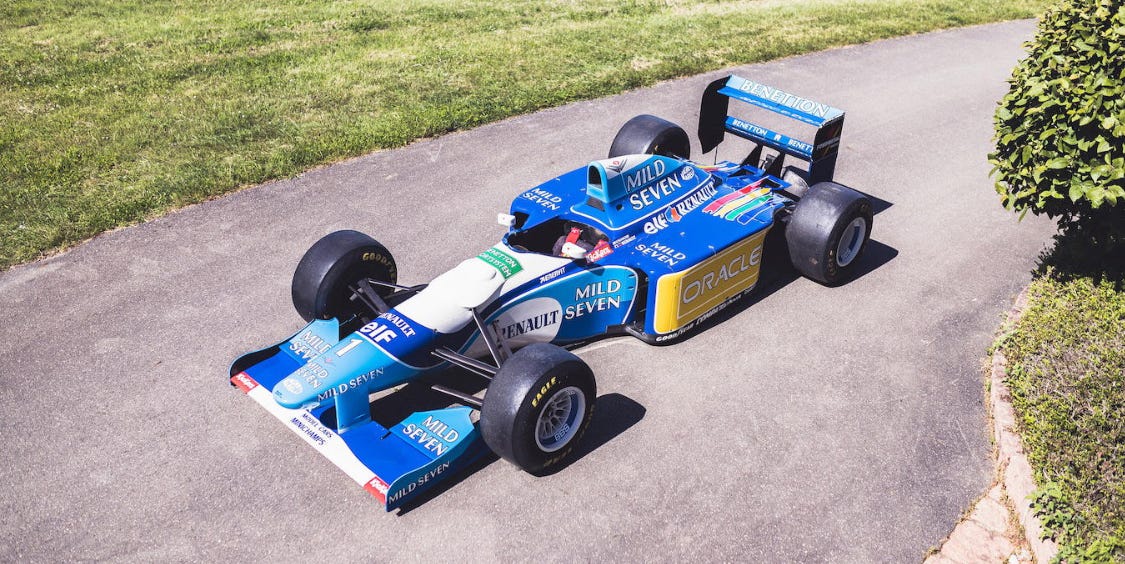 F1 cars aren't often auctioned off, but later this month bidders will have the chance to compete (with their wallet) for a Benetton F1 car that Riccardo Patrese drove to a second place finish at the Hungarian GP 1993. The car will be offered to Bonmont de Bonhams sales in Cheserex, Switzerland, later this month, offering an elite group of collectors the chance to purchase a car with some history from one of motorsport's most dramatic periods.
Those familiar with this period in F1 will perhaps remember it as one of the highlights of the entire adventure of Benetton's F1 team. Supported by the clothing brand's fortunes, the Benetton family fielded an F1 team from 1986 with Alessandro Benetton at the helm from 1988.
This period in Benetton's history is certainly known for Michael Schumacher's early victories, and for the 1993 season he was joined by Patrese. After Benetton finished third in the '92 Manufacturers' Championship, instead of making the decision to modify and drive the 1992 car, the team decided to start with a clean sheet, triggered by a new F1 mandate for tires. narrower.
"Therefore, the design of the B193B started from scratch, with the first car not being ready to race until April," Bonhams notes. "The cars were built in a new 85,000 square foot factory, and from the Imola race these B193B cars with their Ford HB V8 75 degree engines proved to be competitive in the hands of drivers Schumacher and Patrese. . "
the car that Bonhams will offer later that month the B193B-02 chassis served as the team's spare car and was used for testing, but then became the chassis that was given to Patrese, the car's first release in F1 taking place at the German GP in Hockenheim. Patrese's best result this season was at the Hungarian GP where he finished second behind Damon Hill, who won his first Grand Prix race in that event, driving Williams-Renault.
B193B-02 continued to compete with Patrese at the wheel that season, but failed to finish the Portuguese GP at Estoril after colliding with Derek Warwick's Footwork-Mugen-Honda. The damage was not significant, but it was used as a spare chassis for the remainder of the 1993 season after being repaired, notably at the Australian GP and the Japanese GP towards the end of the year.
"Riccardo Patrese – having driven the Williams with active suspension until 1992 – provided Benetton with a lot of knowledge which proved invaluable at the start of the 1993 season with these B193B cars so equipped," adds Bonhams.
The car as it stands now has no engine or gearbox, with Bonhams believing that he will bring between $ 89,000 and $ 130,000 on auction day.
Among older racing cars, and in particular F1 cars, there are certainly several levels of importance in terms of collection and ownership. At the top are fully functional F1 cars that won a major victory by one of the sport's greats and still retain their engines. Whether these engines are racing units or replacements that may not have been in a particular winning race, the differences are largely overlooked as the engines are swapped out so frequently.
Underneath there are cars that may not have Won, but have certainly competed in races with an F1 driver behind the wheel, and retain their engines and other necessary equipment to be restarted with a qualified crew. Cars driven by relatively obscure racers for just a few events are typically in this category – missing a major win or a household name in their provenance, and they may not have been the hottest thing this season. As top-tier cars, they are also frequently in a "run when parked" condition, but could theoretically be made to bark in life with a few hours' notice.
Cars with a history of participating in races, but which are now incomplete and cannot be started, occupy the third level. Usually these are various "bitsa" that took place in events, but some crucial parts are now missing, usually because the engines were removed and placed in other cars later in the season. Usually these are various aftermarket cars from a given season that then donated parts to others but still look presentable and have a certain history.
The fourth and lower level are made up of various exhibit-only pieces that are usually just bodies and wheels that have never raced in a race, and have been put together for promotional purposes to sit in the lobby. an airport, a car manufacturer's museum or a team headquarters. They certainly contain some original parts and can look pretty convincing, but usually don't have a real cockpit or drivetrain interior.
The car in this auction is arguably between the second and third tier, devoid of an engine and gearbox, but otherwise complete, and having reached a podium over 25 years ago.
Old F1 cars are gathered in an elite segment of the vintage car community, barely represented in the United States. But unlike many other vehicles capable of auctioning off six or seven figures, these aren't really cars that can be driven without the support of the crew. For similar reasons, these aren't really tickets to the best vintage car tours or competition events – even if you could tow one in a high level competition, you can't really start it under these conditions for the move on the lawn due to ground clearance problems. As a result, even with engines, these cars are rarely used and rarely exhibited – competition events rarely have an F1 class that one could even theoretically participate in. This is why you don't really see any F1 cars at various lifestyle events, even those that have a lot of cars towed to.
Visit the auction site for the full list of lots for the next auction in Switzerland.
This content is created and maintained by a third party, and uploaded to this page to help users provide their email addresses. You may be able to find more information about this and other similar content on piano.io